If you could let go of the baggage you carry, and instead experience freedom in just 60 days, would you do it?


You know what I'm talking about right?

The anxiety that comes up when your boss says you made a mistake and that old belief of "I'm not good enough" creeps up.

The wound that resurfaces when your partner makes that one comment that sends you over the edge and into a place of rage.

The things you stop yourself from doing, either in your business or everyday life, because you worry that you'll be judged or rejected.

Or the relationship(s), in which you hide your true self and real thoughts because the belief of "It's not safe to be me" consumes your mind.

Because if you dare to shine, people won't like you and they'll think you see yourself as better than them.

But here's the real truth!

Holding onto old traumas, and dramas literally stops you from obtaining what you desire in life.

It keeps you stuck in the past, sometimes without you even knowing it.


I get it because it used to be me too.

And that's why I'm so passionate about helping you let it go so that you become visible and available for your dreams.


Join a small group of women through a…
60 DAY KUNDALINI YOGA & CHAKRA ALIGNMENT EXPERIENCE
(with 9 LIVE group sessions via Zoom)

This experience will be full of deep healing including Kundalini Yoga, energy healing, chakra balancing, manifesting you've probably never experienced, and lots more so you can grow in all areas of your life in 2019.


I'd really love to see you there with us.
(No yoga experience or yoga body required. Kundalini Yoga is known as the yoga for everybody.)

This is for you if…
You want to deepen your spiritual practice and connection to yourself so that old patterns of self sabotage and self destruction leave your inner sanctuary for good.

You deeply desire to let go of the constant struggle as well as the depression, anxiety, and grief you've told yourself is just a part of life now.


You've been carrying old hurts and pain (physical pain too) that have stopped you from moving forward in life.

You only accept yourself when others praise you or tell you how much they like you/love you. When you feel rejected by others, you tend to doubt and reject yourself.


You want to heal generational patterns and break the chains of trauma, sadness, or shame passed down to you and those after you.


You're the "strong one". You take on everyone's issues around you or feel everyone's crap without them even telling you.


You're surrounded by people who take away from your growth, make you feel worse about yourself, or don't support you.


You numb yourself often - whether it's via food, exercise, alcohol, screen time, or drama so you don't have to feel your heavy emotions all the time.


You have some really amazing days and then days that are full of sadness and you don't understand why. No, it doesn't mean you have bipolar disorder...There's a reason for this.

Your job isn't satisfying you anymore. Your relationships aren't satisfying anymore. You feel like something is missing.

You have a business that you can't get to the next level or you're thinking of starting your own business but can't quite find your way.


You want to surround yourself with others who get you, and support you, without you having to say a word.


Learn how to be your greatest healer and teacher!
(in just a short time)


"I have been able to discover myself on a deeper level.
This program has been an amazing experience! Through this, I have been able to discover myself on a deeper level. It has helped me to connect with myself more. I have been working on loving and accepting me, and have taken great strides in those areas. I have never been good at putting myself first or saying no to others, but with this program, I have learned how to take care of myself and my needs, while being able to still keep up with a busy schedule. It is also amazing to have a group of women that are going through a similar experience! It allowed me to feel connected and have someone to share the experience with. Thank you so much Lissette!! This program really is amazing beyond words.
- Ashley
Maybe you've "done it all" and have made some progress, but can't shake the baggage.
Or maybe you feel so overwhelmed with how to even start that you feel paralyzed when it comes to your next move.

I've been there too. And I got you sister.

It's time for you to get out of the crazy maze you're stuck in so you..
have more time for you,
the things you love doing,
and the people you love being around.

It's time for more laughter and joy in your life too!
It's time to experience freedom in your life with other women just as powerful as you.
(Even though you may not see how powerful you are just yet.)

For many centuries, way before all this technology we have today, women would gather in circles and heal one another and the world. The energy that came from these women was powerful as f**k and one that we have access to today. We've just forgotten that we are ridiculously powerful.
Part of my work is to remind you of that.
Together we will speak our truths, crack our hearts wide open, and heal ourselves from the traumas we've been shouldering for centuries. Because the pain we now carry doesn't just belong to us, it came from our mothers, grandmothers, and ancestors.

Our love has the power to heal.
And when we gather together, with a positive intention, we transform ourselves and the planet.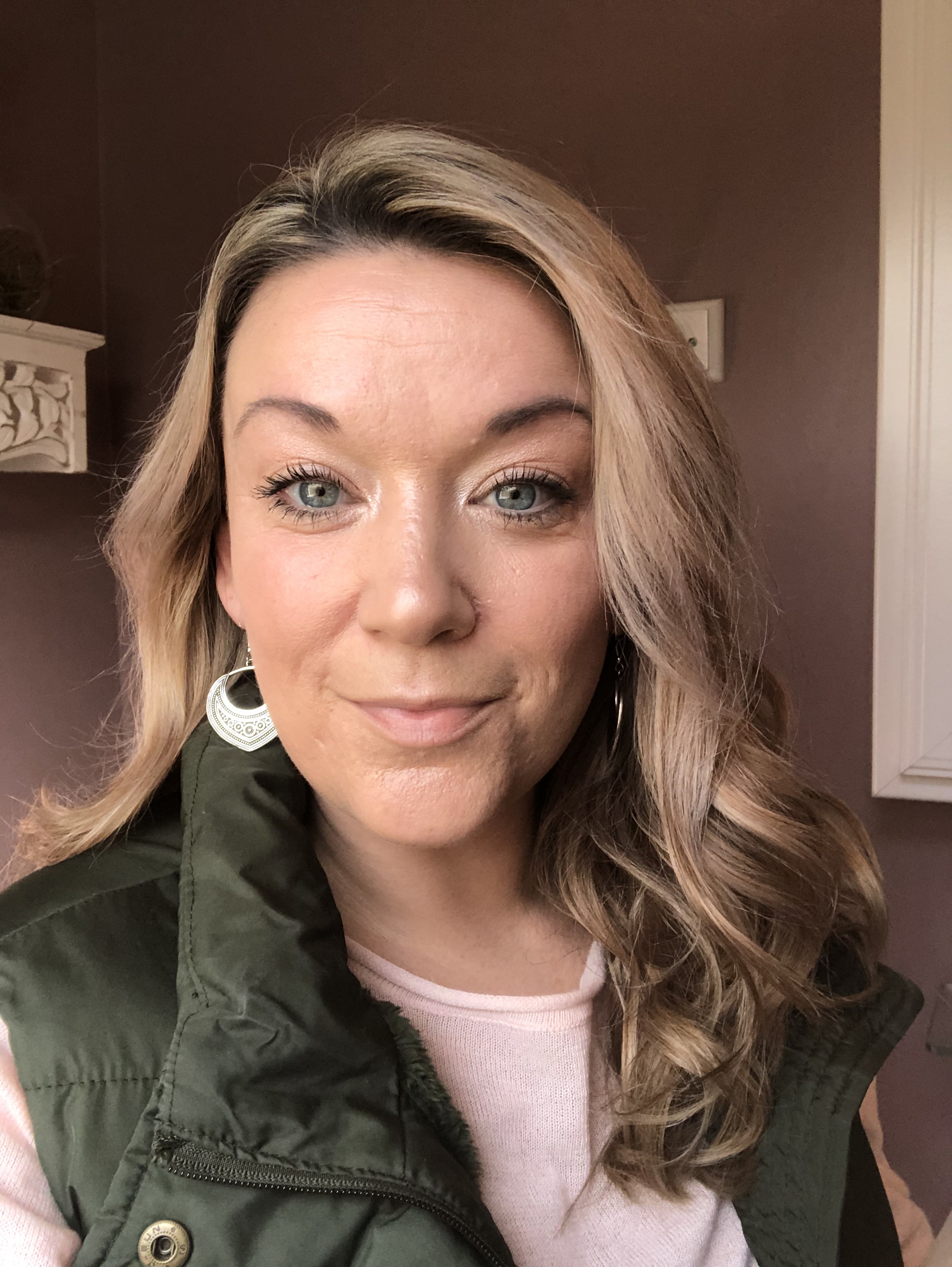 "This program has really changed me.
It's helped me release old wounds & heal in many ways. This whole experience has made me a better ME. It has changed the way I feel about many things, including the way I feel about myself. It has allowed age old road blocks to begin to clear. Physically, it has reduced the amount of inflammation I usually deal with. I physically & mentally feel lighter, happier and so much more calm. Things that used to really upset me, don't bother me & I no longer react to in a negative way. There's a clear shift towards the positive in every aspect of my life now. Lissette is an amazing teacher. She speaks to things on a different level. Her words resonate and really make you think. It's not always what you want to hear, it's what you NEED to hear. I'm forever grateful for Lissette and this program. She is passionate about the program & her energy is pure. You will take away so much from this experience, Lissette's teachings, and from the group of women who you are with. You will learn from them as well, and connect on a different level.
- Jen
WE START ON APRIL 30TH AT 5:30PM!


And there's a seat waiting for you to be part of this exclusive experience.
THE LOWDOWN (AKA DEETS)
Each week (Tuesday's at 5:30pm) we'll focus on 1 energy center (chakra) in your body. You'll know if that chakra is unbalanced, under-energized, or over-energized, and how it's connected to the way your life looks like. You'll know everything there is to know about your energy anatomy (chakra system), how to recognize when it's unbalanced, when it needs more love from you, and how to strengthen it.

We'll then have a Kundalini Yoga class specific to that chakra for healing, balancing, and strengthening. The more your chakra(s) heal(s), the more your outside world reflects the life you often daydream about.
Energy healing, in addition to healing old relationships, clearing past resentments and hurts, will also take place. And so much more!

Side note: When you practice Kundalini Yoga you're also healing your nervous system, connecting more deeply with yourself, and healing wounds without ever having to talk about them. That's why I love it and practice it daily - no joke.


AND…

There will be tons of conversations around the moons, eclipses, energetic shifts happening, and all things spiritual so you're better able to navigate the astrological changes that happen each month. And you'll know why your moods change every 2 1/2 days - because they do.

AND…

Throughout the program, you'll also be part of a private Facebook group, where you can ask me, and the group, any questions you have. You'll also have new accountability partners, each week, that you'll connect with so you get to be supported as you grow.

YOU ARE NOT ALONE.


We'll be there for you as you feel, heal, and elevate!

"Lissette is real. I can finally put my problems to rest.
I feel like I've grown so much. I'm able to communicate more efficiently, with less anger or sharpness like I usually do. I've stood up for myself in ways that people praise and compliment, rather than criticize. I have placed myself first so that my job is not taking over my life and I can spend more time with my friends and family. My boyfriend and I are communicating positively, and talking rather than yelling. Our time together is full of laughter and fun, and we are talking about the future (which used to scare the shit out of him and now he's the one bringing it up). I have been open and honest in talking about my past experiences that have jaded me over the last few years. I thoroughly enjoyed being a part of this program. It was made up of very strong and beautiful women that were supportive and understanding. It helped us all release feelings that we didn't even know were impacting us. Lissette is an excellent teacher. She does not sugarcoat anything - the best advice she gave me about improving my outlook on life and myself happened in those real moments where the truth was shared outright. I am truly grateful for this experience and the women in this group.
- Hilary
You can walk away from this...
Recognizing and clearing baggage you didn't even know you carried

Understanding why your outside world looks the way it does and how to change it by developing a relationship with your energetic body and anatomy

Letting go of resentments or anger toward your parents or past relationships so you can have fulfilling relationships with others and yourself

Connecting with your inner child and healing old beliefs developed at different ages

Having healed past wounds, self destructive behaviors, and addictions while freeing past and future generations of it too

With some serious self love, self compassion, and loving the person that looks back at you in the mirror

Having lost excess weight your body held onto because of pain or trauma

Having healed or radically reducing physical pain connected to old wounds

Having connected to a higher power than you, where you can access your own internal wisdom

Comprehending why your business, if you have one, is not growing and how to flip the switch

Relating with other women, like you, who support you in your journey

Fully knowing who you are and what you want in life

With the ability to speak your truth and have others listen

With clear action steps on how to cultivate emotional, mental, and physical freedom in your life

Feeling lighter, brighter, confident, and radiant

And so much more!
BE HELD BY US FOR 60 DAYS AS YOU ELEVATE AND EXPAND YOUR LIFE FOR MASSIVE SUCCESS.

This isn't another "woo woo" program nor is it a step by step program on how to be like everyone else.
It's based on science as well as sacred teachings that have only been practiced by the elite until recently.

And listen, I'm not here to tell you what to do or how to be you because I'm not you. I don't work that way. You know you best.
I'm here to guide you on how to let go of the traumas and dramas that hold you back from living your dream life., and I'm here to cheer you on as you begin to awaken to the power and creativity that already exists with you.
I'm here to crack you open in a safe space.


You'll be supported - NOT judged.
You'll laugh - because laughter is medicine.
And you'll transform.
I combine everything I've learned over the past 13 years so you get an experience that's incomparable to what anyone else is offering.
The only thing you have to do is be open and willing to take action in healing yourself.
You can be confident, powerful, seen, and loved. All at the same time.



This program can literally save your life and your relationships.


It is so crazy that just within this time, I am a whole new person.
I had hit an all time low in my life. I didn't even know what I'd expect, and let me tell YOU...I am at peace. I feel amazing! I joined this program knowing that I needed some severe help! I was severely depressed, had major anxiety, had constant thoughts of harming myself. I was in a dark place! It is so crazy that just within this time, I am a whole new person. My mindset has changed drastically! I am in an amazing place! I can't even remember the last time (or if I ever) said that. My ways of communication have changed. I'm more positive and I look forward to life. The way I react to things are very different. I no longer snap back and get irritated. I have more patience. I've learned to let go of past wounds. Things I honestly thought I could never get over. I am no longer tied down to anything from the past, or even in the present. The most WONDERFUL thing I can say that has happened, is that I LOVE myself. I come first. I am well deserving of everything that comes my way! I am finally my own person! I've gotten the chance to listen to my own heart! This class, the girls, the things I've learned will always be with me! My heart is crying out of so much love to all these beautiful wonderful girls and these teachings! I will forever be grateful for you Lissette! You are God sent!! Thank you for everything!!

LET 2019 BE THE YEAR YOU WENT FOR IT AND EXPERIENCED WILD SUCCESS.


Your adventure awaits.


ARE YOU IN?



We'll celebrate with a surprise, but magical, last session to keep the momentum flowing for 2019.
And you'll have everything you need to keep going after your 60 day journey.


p.s. * Seats are limited and some have already been reserved. Grab yours now!
I don't know when I'll offer this again. I can assure you the price will increase when I do.
Don't miss out on this amazing and life changing experience!

p.p.s. * This Immersion is the only way to have me available to you at a MUCH lower rate than working with me 1:1 AND have me "on retainer" throughout your 60-day journey. I've only offered this to my private coaching clients until now.
View Event →